In monthly terms, prices fell mainly due to seasonal sales of clothing and footwear, as well as due to lower prices of gas (-9.4%). On the other hand, higher prices of air transportation services (15%), holidays, coffee and tea, and those of medical services had a positive effect on monthly inflation.
Higher prices of solid fuels (17.9%), dairy products and eggs, water supply, sewerage and refuse collection services, those of housing rentals, as well as an increase in the prices of alcohol and tobacco products, re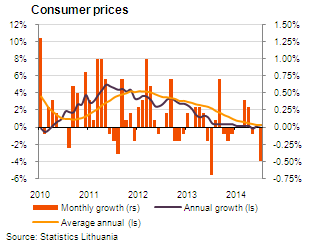 sulted by the excise duty hikes in March and April, had the largest positive contribution to annual CPI growth. As a result of declining global energy prices, the modernization of the heating sector and lower gas prices by Gazprom, the prices of heating in July for Lithuanian consumers declined by 17.3%, those of gas – by 13.9% and of electricity – by 5.4%, in annual terms. Fierce competition among mobile telephone operators drove down the prices of communications by 5.2%. In general, prices of goods in Lithuania declined by 0.1%, while prices of services increased by 1.6%, in annual terms.
Producer prices in the Lithuanian market contracted by 4.8% in July. Due to still weak commodity markets and still little pressure on prices from rising labor costs, producer prices have been declining for over a year now and thus have had a negative effect on the consumer price inflation.
Outlook: Inflation will re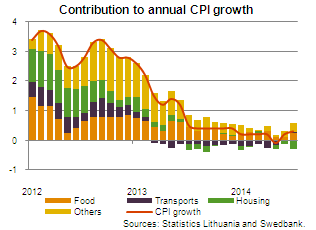 main low this and next year
Due to favourable commodity price developments, a decline in the prices of natural gas, cheaper food products as a result of a ban imposed by Russia on all food and agricultural products from the EU, as well as a lack of other drivers of inflation, consumer price growth will remain moderate this year and probably will be below our forecasted 0.8 %.
The build-up of wage pressures resulted by the warming up labour market has become a more distant prospect – it will most likely not materialize next year and thus will not have a significant effect of inflation. In addition, the Russia ban on food products might bring down the prices of food in Lithuania, thus inflation will most likely stay below our forecasted 2.5% in 2015.