In January the consumer prices were pushed down the most by fuels and lubricants, which were 20.9% cheaper than a year ago. Lower prices of vegetables, heating, gas, electricity, cloths and footwear also had a negative effect on prices. Meanwhile, more expensive tobacco and alcohol, restaurant services, rent, fruits, coffee, tea and cocoa had a positive effect on prices in January.
In a month prices decreased mainly due to 11.3% cheaper fuels and lubricants, mainly seasonal decrease in prices of cloths and footwear, cheaper electricity and solid fuels and 20.7% lower prices of passenger air transport services.
In general, in January the prices of goods in Lithuania declined by 2.8%, while the prices of services increased by 2.6%, in annual terms. Euro adoption might have contributed to higher prices of services due to rounding up of prices.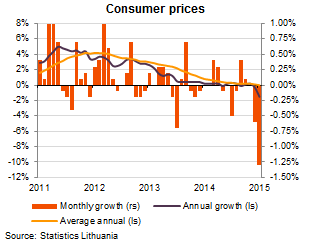 Producer prices in Lithuanian market have been decreasing since July 2013 and in January this year was by 10.6% lower than a year ago. This shows that inflation is likely to be very weak in the coming months. Prices of services are expected to keep rising, but prices of goods are likely to be lower.
Headline inflation has slipped to 12-year low due to lower energy prices. Core inflation (excluding energy products) has been above 1% for the few last months and it has been diverging from headline inflation.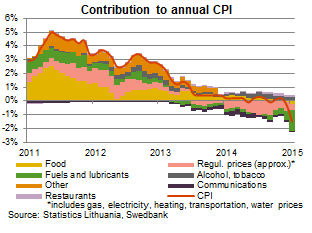 Outlook: falling prices will boost domestic demand
Falling commodity prices, especially in the first half of this year, will keep a lid on prices. Weakening euro to some extent will counteract the effects of lower commodity prices. However, oil prices in euros this year is still expected to be 35% lower than a year ago and this will keep bringing down the prices of fuels and gas on an annual basis and will keep headline inflation at a low level. This will increase the purchasing power of households and lower the costs for companies. At the same time rising prices of services will allow to raise wages. Inflation this year is expected to be significantly below 1%.