According to souvenir dealers, while amount of tourists is not decreasing, trade has been going down the last few years; only our national holidays improve it. "During the Song festival week Lithuania was visited by emigrants from the most diverse countries – Peru, the USA, and Bolivia. They were buying a lot of Lithuanian crosses (Rūpintojėlis), looking for the things Lithuanian." — said the craftsman to LRT.lt.
Frightened by the prices, not the heat
Traders agree that the tourists adapted to the heat of the capital, but did not want to open the wallets widely. According to a seller of wood carvings, foreigners who are reluctant to spending, tend to be satisfied with small purchases.
"Heat was not really a problem, since when you come to another country, you cannot predict what the weather is going to be like. Tourists pick up some water, spend some time in outdoor cafes, in other words, they walk short distances. But they do not want to spend much. Very rarely the sum exceeds 15-20 Euros. This is the limit which no one crosses. "— said a wooden carvings merchant to LRT.lt portal. He believes that tourists buy more expensive souvenirs in stores, and on the street they want to find cheap little things.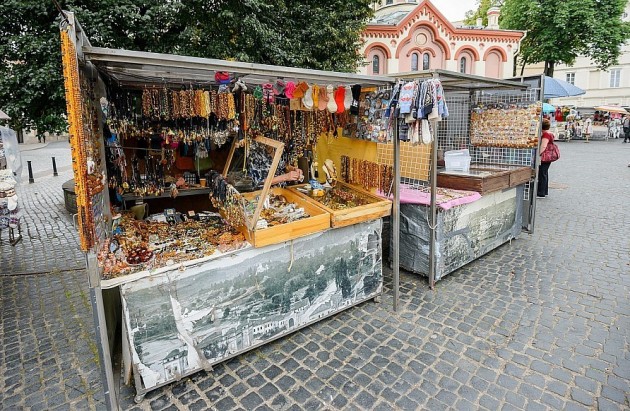 The seller of amber goods agrees that even tourists from rich countries are reluctant to spend, picking the cheapest souvenirs.
"In fact, trade has become drastic. Foreigners are interested in amber, but they buy the cheapest things and usually spend 3-5 Euros." — says the seller of amber articles.
The seller of wooden kitchenware and souvenirs also noticed that tourists buy less and are pickier: "In the past, they used to buy more and various things, now they buy one item only. Sometimes while choosing wooden figures for the Euro they think and look around from all sides and then ask for a discount. "—says the merchant.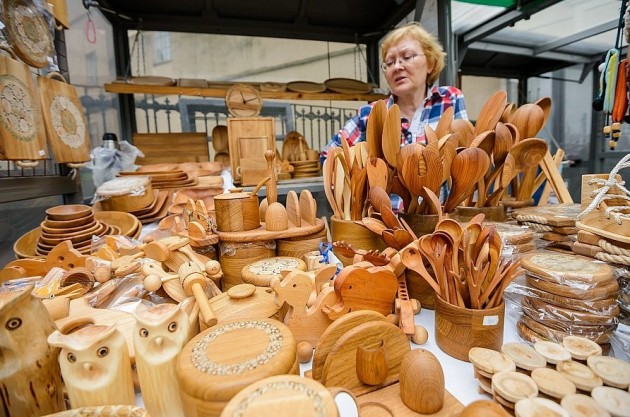 There are tourists but no sales
The seller of wooden goods says that the trend of declining trade has not changed for a year, and this could have been caused not only by people saving more money, but also by the bad trading location.
"The trend of trade is clear – it is declining every year. Most likely the people save more. Christmas shopping is also not very profitable. It may be that my location is not very good – I am behind the merchants of the paintings, it is not visible from the street," — says the trader.
According to painters who sell their works, tourists in Lithuania may not be going down in numbers, but their wiliness to buy is gone for the last ten years. "There are a lot of tourists, but sales are declining every year. In the past, we were short of time to paint enough paintings, and when the 2008 crisis came, it was good period for us. We are now pushed by tax agencies, we cannot lower the prices — the majority complains are about the prices. But the painting cannot be sold for three Euros. True, the trade in works of art is very unpredictable. It happens that we do not sell a single painting in a whole day, but next day we sell 10 of them." — said a painter to LRT.lt.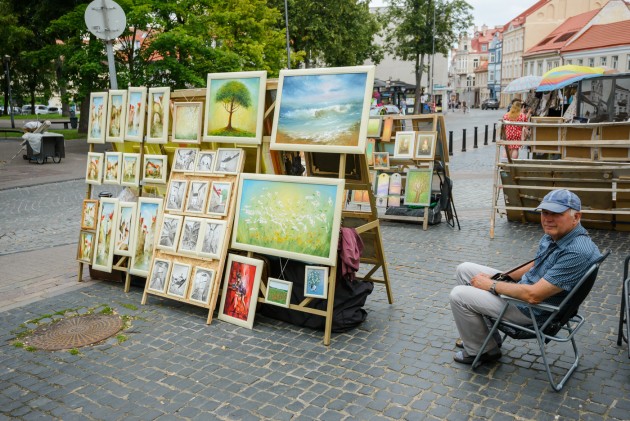 According to the painter, tourists from different countries choose different kind of paintings; but the painter does not try to play by everyone's taste: "If locals more often choose landscapes, then tourists prefer urban style. In addition, it depends on where you come from. I paint more with cold colours, so the drawings are more often bought by Americans. I was surprised when one Columbian bought a lot of my paintings, because their culture is so bright and warm. Sometimes I try to adapt to the tendencies of these different nations, but I am Lithuanian and cannot paint differently. "
On the first day at work at souvenir stand, the merchant saw how tourists from different countries are interested in different products. "There were French, Poles, and Russians. The French bought metal bells, women were looking at amber neck jewelry, and Russians are more likely to buy bracelets," — says the seller.
The song festival attracted generous Lithuanians from the world
A craftsman from Vilnius who specializes in Pensive Christ sculptures (Rūpintojėliai) and wood carving said that the Song Festival taken place a few weeks ago has attracted a lot of Lithuanians from all over the world. The traders were happy about the sells during the festival.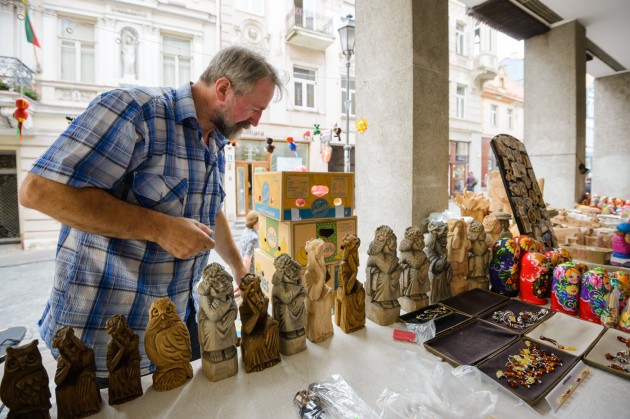 "We enjoy every day of it, and we can communicate with the people from all over the world — during the Song Festival week Lithuania was visited by emigrants from the most diverse districts of Peru, the USA, Bolivia and so on. Lithuanians in the world bought a lot of Pensive Christ, birds and horses. I was looking for what is Lithuanian, which is difficult when globalization takes place. However, it's fun that folk art is popular among young people — they are willingly buying Pensive Christ, perhaps for their parents and grandparents. Some even order me to do it. We had to make one piece for the 80-year-old man from Bolivia." — says the trader.
According to him, speaking with tourists is helped by eloquent gazes, gesture language and knowledge of human psychology.
"A Brazilian lady come yesterday, talked with me in Portuguese and Spanish, and I talked with her with eyes and fingers. I know a few sentences in German, and that's enough. I understand a lot, I only speak a little. But you need to understand the buyer, what he wants — to communicate, to buy, or he does not know what he wants at all. In trade, 90 percent of success is determined by the knowledge of psychology." — says the merchant.
Slavic attributes and Soviet legacy raise questions
It is hard to find a market place for souvenirs that does not spoil the part of Russian folk traditions — a wooden doll matryoshka. According to the salesman of wooden carvings, trade is unthinkable without flattering matrimonial dolls, as they have already become queens of the world's souvenirs.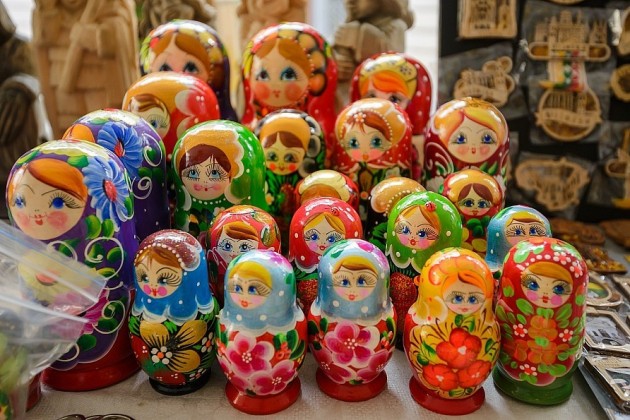 "Matryoshka is a sacred matter, wherever you are- in Israel or New York. Matryoshka already has its own brand, it is at the top of the list of top souvenirs." — a tradesman is convinced. Antanas has been collecting and selling old stamps and Soviet era badges for 24 years. For outraged customers complaining about Soviet-style badges he even has an ad saying that they are just a part of collectibles.
"I have a variety of badges, but I tell that they were collected for collectible purposes; otherwise the law would prohibit the sale of such items. I recognize history as a whole — Soviet or any other will not destroy anything. It has to remain natural, the way it was, so you can learn from it more. "— says Antanas.
According to him, foreigners are interested in the history of Lithuania, however only a few have bought Lithuanian badges this year even though they are 50 years old. The merchant is considering that this happened due to the decreased interest in culture and the acceleration of globalization.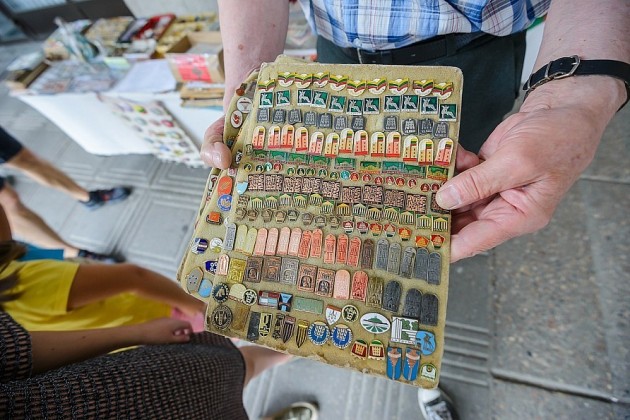 "I would like to see young people to be more interested in culture. I have thousands books in my library, and my granddaughter does not want even touch a book, is cares only about her mobile phone. I have Lithuanian books dated the 17th century, but they are of any interest to anybody any longer are," — the collector regrets.
Travelers from Spain traveling around the Baltic States said that they were most impressed with Lithuanian handmade accessories and clothes.
"We will be in Lithuania until tonight, so this is our last chance to buy something. I really liked linen dresses and we are now looking for shops. We already have bought very beautiful scarves. Amber is not for us because we have it in his own country," — the tourist from Spain spoke to portal LRT.lt.