Growth was most likely driven by household consumption as annual retail trade growth accelerated from 5% in the third quarter to 6.1% in the fourth quarter last year. Investment performance was most likely weak. Export growth probably was aslo slow, but still holding up as manufacturing growth was stronger in the last quarter last year as well. However, exports of services decreased by 10.4% in November compared with the same period a year ago in nominal terms. This most likely was due to deteriorating performance of transport sector, which is dependent on Russian market. Export of goods growth in September and November was driven by strong growth of machinery, furniture, fertilizers, pharmaceuticals and tobacco exports. However, exports of fruits, vegetables and vehicles decreased significantly due to Russian food embargo and continued fall in vehicles exports to Russia.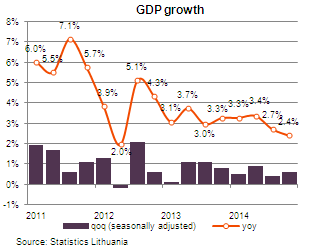 Economic sentiment indicator recovered somewhat in January, mainly due to improved consumer confidence, but also due to somewhat better expectations of industry and construction. However, we expect confidence to remain weak throughout this year due to worsening economic performance of Russian and other CIS economies and its adverse effects on Lithuanian export demand.
Outlook: growth will continue to weaken
Employment growth this year will be much weaker, but real wage growth will remain strong due to tightening labour market and low inflation. Therefore household consumption will remain the main growth driver, while exports are expected to be flat. Weakness in the CIS countries, a market for more than 30% of Lithuanian exports, is expected to be at least partly compensated by exports growth to the most of the EU countries. However, high uncertainty and weak confidence will weigh on investment growth, especially in sectors dependent on foreign demand. We have recently revised GDP growth forecast down to 2.3% in 2015, but expect growth to accelerate to 3.5% in 2016.