Consumer prices were pushed down the most by lower prices of heating (-17.7%), gas (-11.2%), electricity, and fuels, resulted by declining global energy prices, the modernization of the heating sector and lower gas prices by Gazprom. Due to the Russian embargo of food products the prices of vegetables declined by 7.8% in annual terms, but the prices of milk, cheese and eggs were 3.5% and those of fruit 11% higher than a year ago. The prices of solid fuels, restaurant services, sewerage and refuse collection services, rentals for housing, and tobacco products increased as well from last year's September.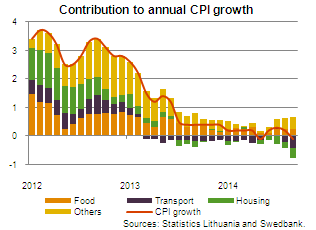 In general, prices of goods in Lithuania declined by 0.8%, while prices of services increased by 2.2%, in annual terms.
In September producer prices in the Lithuanian market continued to trend downwards and were 5.6% lower than last year. Due to weak commodity markets and still little pressure on prices from rising labor costs, producer prices have been declining for 15 months now and thus have been having a negative effect on the consumer price inflation.
Declining global prices of oil are likely to continue to contribute negatively to consumer price inflation. However, the effect of lower energy prices on consumer price inflation will not be as large as expected due to the weakening of the euro against the US dollar. Since June the prices of Brent oil in US dollars have declined by 19%, but only by 13% when converted to the Euros.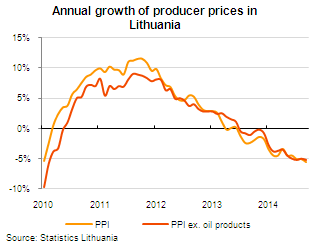 Outlook
Inflation will remain low this and next year.
Due to favourable commodity price developments, a decline in the prices of natural gas, cheaper food products as a result of a ban imposed by Russia on all food and agricultural products from the EU, as well as a lack of other drivers of inflation, the average consumer price growth will remain low this year – around 0.2%.
Next year the euro introduction will create some additional inflation in accommodation, catering, and leisure services, and the weakening of the euro will push up the prices of imported goods, thus we expect the consumer price growth to accelerate to 2%. In 2016 rapidly increasing labour costs and more expensive food products will result inflation accelerating to 3%.