In December the consumer prices were pushed down the most by fuels, which were 10.4% cheaper than a year ago. The drop in the price of fuels was resulted by the declining global oil prices – since the peak reached in June of last year the price of Brent crude oil (in Euros) has declined by 50%. Lower prices of communications, heating, gas, and electricity also had a negative effect on annual inflation. Meanwhile, more expensive solid fuels, restaurant services, sewerage collection services and rentals for housing were the main drivers of annual inflation in December.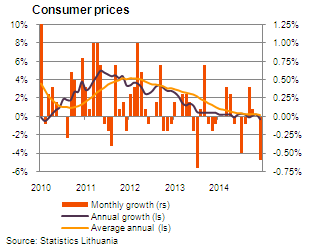 The declining prices of energy products have been recently having a large negative effect on consumer price inflation in Lithuania. They have pushed down the headline inflation to the lowest level since 2010. Meanwhile, the core inflation, which excludes the prices of energy products, has been above the headline inflation and has been diverging from it.
In general, in December the prices of goods in Lithuania declined by 1.1%, while the prices of services increased by 2.4%, in annual terms. This divergence is likely to continue this year.
Outlook: Inflation will remain low
In 2015 inflation is expected to pick up somewhat, but will remain low. The introduction of the euro will create some additional inflation in accommodation, catering, and leisure services and the weakening of the euro will push up the prices of imported goods. Since oil prices are unlikely to rebound quickly and much, cheaper energy (also gas) will keep a lid on inflation this year.
Although ECB is concerned about deflationary trends in the euro zone, it is definitely not a problem in Lithuania. The only source of it is cheaper oil and gas, which is good news for Lithuanian consumers and companies. At the same time there are no deflationary expectations and wages continue increasing at a healthy pace – in the third quarter they were 4.3% higher than a year ago and are likely to continue growing at a similar pace.