The Nordic countries are the largest group of foreign investors in Lithuania. Many of these companies are active in the northern part of the country with most of the production being exported. Collectively the Scandinavian countries represent 35% of all foreign investment into this country and the Chambers of Commerce represent most of these companies.
First stop on the mission's visit was Devold, a Norwegian company with a proud history going back almost 165 years. COO, Bjarne Møller informed the visitor that their aim is to keep us warm with Meringo woollen clothing. Among their customers were the famous Norwegian explorers setting first foot on the North and South Pole! The present owners made a few years ago a massive multi-million Euro investment in the Panevėžys Free Economic Zone. Now the top-notch modern plant employs nearly 300. Robots transforming Meringo wool into clothing items are now doing all the knitting. However, sewing the various parts together is still impossible to be performed by robots.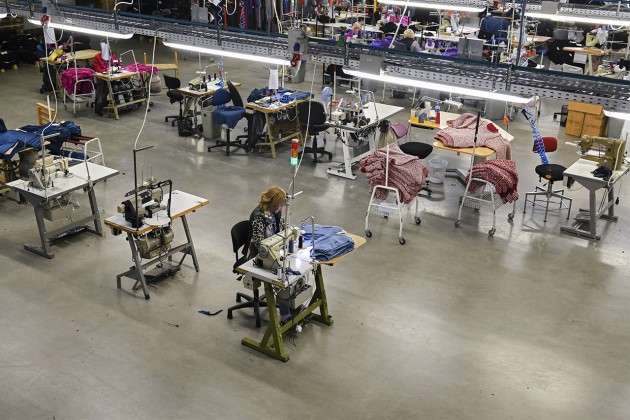 A group of remarkably skilled women, combining their dexterity with expert skills, perform that last part of the assembly. These women earn well above average Lithuanian income ensuring that Devold's high quality products ranging from woollen socks to sweaters leave the plant with pride. The company also makes a line of fire-resistant clothing. All the goods end up in an impressive highly robotised distribution centre before delivery all over the world. It was an impressive scene to see!
From upscale knitwear, the delegation went to see first class safety at RFX+Care where local products and those originating from China are assembled and delivered. CFO Jacob Kjeldsen explained how the plant in Panevėžys supplies a large range of private label customers all over Western Europe. Some kits are comprehensive custom-made for large insurers and well-known brand name shops, while others are very specific, e.g. to treat insect bites.
The plant with almost 50 employees also makes the safety reflectors that are mandatory in Lithuania and that are increasingly welcome elsewhere. At present, it still involves a lot of manual labour were nimble fingers turn out an amazing variety of shapes and colours to keep the kid in all of us happy!
Sub assembly of various metal and rubber components is the domain of Swedish SLT in Biržai. According to SLT's CEO, Åke Stenquist the plant's high efficiency and flexibility of the labour force ensures that this company is able to produce products that are in high demand by a large number of automotive and other companies, including cosmetics! The company's ability to zero in on seasonal demand and rigorous attention to high quality output production, with a very low error rate has contributed to the company's expansion. Mr Stenquist explained that everything is exported with 90% of production going to Scandinavia, the rest mainly to Germany and Italy.
Welding and metal bashing may not look appealing as a career, but here again, a severe skill shortage ensures that this is a job for years to come. Robots cannot do everything and SLT's activity is a prime example. The company employs about 200 employees, including a large number of female heavy machine operators. CEO, Åke Stenquist pointed out that the company has also a majority of female managers. Like the other companies in the area, they are continuously hiring employees.
The delegation finished the day learning a bit or two about brewery technology at Rinkuškiai Brewery in Biržai. The ever-dynamic guide, Tolvyda Raudonikienė, explained the various processes that are needed to obtain the end-product, before the delegation sat down for a 'northern' dinner and return south.