An exceptional part of this year's Christmas in the Capital Programme and a new feature – a Christmas Town at Town Hall Square set up in unique spaces next to a stylish Christmas tree. The Christmas Town includes ten festive, shining and ingeniously decorated glass domes dominated by a show of remarkable Christmas beauties and goodies.
Located in the heart of Vilnius Old Town, this Christmas Town is non-traditional and unique in the Baltic countries. It amazes visitors with its incredible atmosphere and invites them to have a good time, warm up, taste something delicious and buy a few Christmas gifts in advance.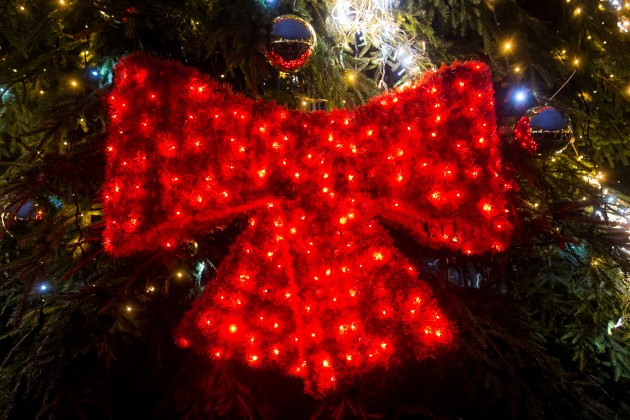 Each dome of the Christmas Town at Town Hall Square represents a special Christmas fairy-tale with its special secrets which you can unfold only if you visit them.
Did you know that Cinderella, in order to make herself more beautiful on her way to a ball, secretly dropped in a magical make-up dome made by a good fairy from a glass Christmas tree bauble? Yes, that fact was concealed to keep the secret of Cinderella's beauty. The Make-up Dome of the Christmas Town at Town Hall Square is an equally miraculous place where women turn into queens, girls become princesses, while children become fancy characters of fairy-tales. Fairies at the Make-up Dome will give you advice on make-up and colours that suit you best to reveal your most beautiful features and offer personal make-up lessons. Your desired make-up will help you to feel special during an important meeting or a festive night. Whereas children will be easily transformed into characters of favourite cartoons or fairy-tales by the fairies of the Make-up Dome.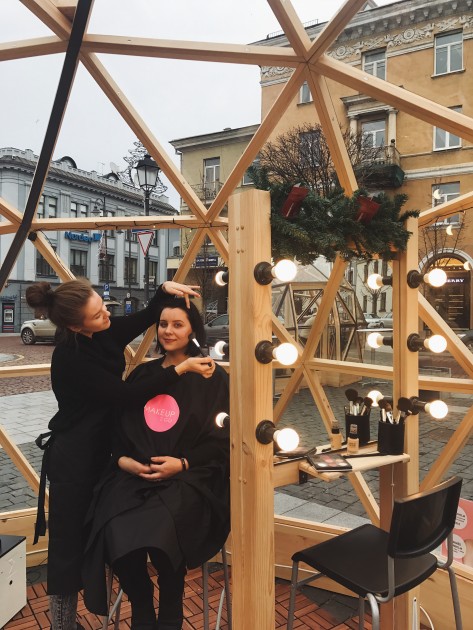 The secrets of stones attracting happiness and good health as well as silver treasures are kept at the Amber Dome. Modern jewellery made from amber and silver by artist Tomas Kondratavičius features exclusive forms, excellent taste and elegance. Furthermore, the items tell us stories about snow-covered mountain tops and winter. Here, an original gift can be found not only by women, but also by men who enjoy challenges.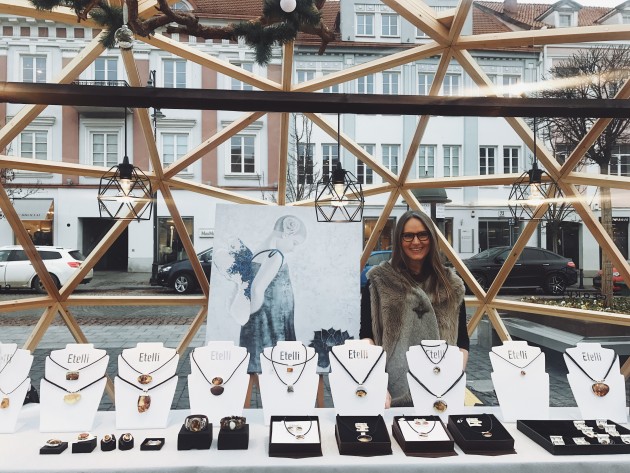 Brrr! Covered in softest fur, the Fur Dome keeps telling a fairy-tale about cold winter. It encourages to not fear either cold, or winter, and offers a wealth of warm and soft accessories made of natural fur: fluffy fur hats, soft gloves and scarves. It's been the third decade as Jūratė Paliulienė has been creating hand-made accessories from natural fur and leather of silver fox, beaver, raccoon dog and rabbit. In the Fur Dome, she will greet every guest with joy helping him or her to choose the most suitable accessory – and scare away the cold winter.
The Food Beat Dome invites visitors to a feast of Christmas smells and tastes. A fragrant Christmas duck stew with tangerines and cranberries, ratatouille served with coconut milk and lime juice, a chicken stew with quinoa or chili con carne will make you full and warm as well as satisfy your taste buds. And… holidays are not holidays without desserts! Here, you will be offered tarts with sweet-scented and delicious fillings, colourful ginger Christmas trees, mouth-watering snow-white marzipan biscuits and other confectionery. You will be able to enjoy them here or take them away as a delicious Christmas present. If you are cold, aromatic and natural ginger, raspberry or elderberry tea will help, or you will be able to have a Bombardino cocktail that you tried in the mountains once again.
Have you ever heard a fascinating story about a noble and kind-hearted giant Džiugas (this Lithuanian name is derived from the adjective meaning "joyful") who fell in love with and married a beautiful farmer's daughter? During the first wedding night, the newlyweds pressed a large cheese which was as strong as their love. Their guests praised the cheese for its good taste and joyful mood. Therefore, in the giant's honour the cheese has been named Džiugas. The Džiugas House Dome invites visitors to try this unique cheese as well as various delicacies made or stuffed with it – their taste and quality are sure to improve your Christmas table. Here, you will also have an opportunity to get warm with a cup of a chosen delicious hot Christmas drink.
A winter bar IGLOO attracts visitors not only by offering tasty tea, but also hot winter cocktails. A cosy Winter Bar Dome invites everyone to stay warm with the help of drinks smelling of special Christmas spices – Bombardino, mulled wine, mulled cider, Aperol Spritz and many more. Each Thursday through Sunday, an oyster embassy will be set up at the IGLOO bar where guests will be able to buy various sorts of oysters, learn interesting facts about oysters, their history, origin and sorts as well as enjoy a glass of genuine Champagne.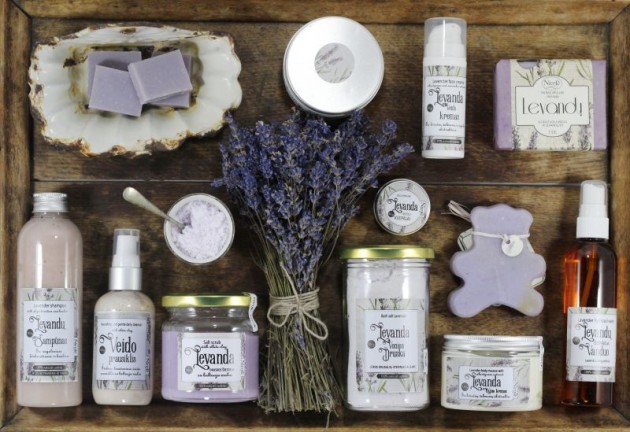 According to the hosts of the Natural Cosmetics Nimfė Dome, everything is in people's hands; therefore, we need to wash them as often as possible. If we are clean and smell good at the start of the day, we will be full of energy and strength as well as in a good mood. In this happiness-smelling dome, you will hear even more scented stories about happiness and will not leave the dome empty-handed. Natural soap, cosmetics and other perfumed goods will emanate good mood and freshness in your environment. Your home will also smell of happiness.
The Chocolate Dome offers us to taste and enjoy happiness-inducing sweet-smelling fresh chocolate and sheer luxury. Choosing your favourites out of over fifty sorts of chocolates may prove a pure challenge. A real chocolate Christmas fairy-tale!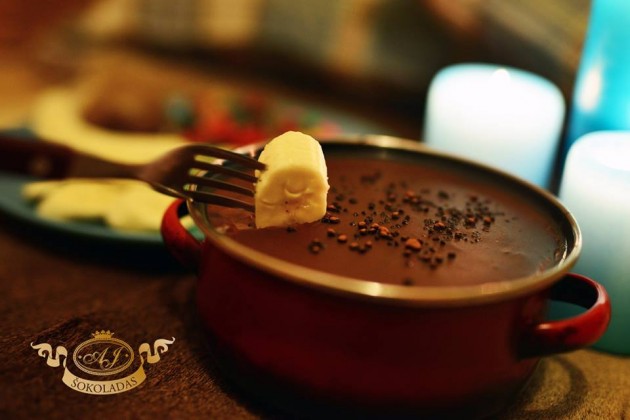 The hosts of the Tea and Spices Dome help us to not get lost in the multi-coloured oasis of CHAI CHAI tea, spices, coffee, cocoa and confectionery. They will know what to offer even to the pickiest buyers of Christmas gifts.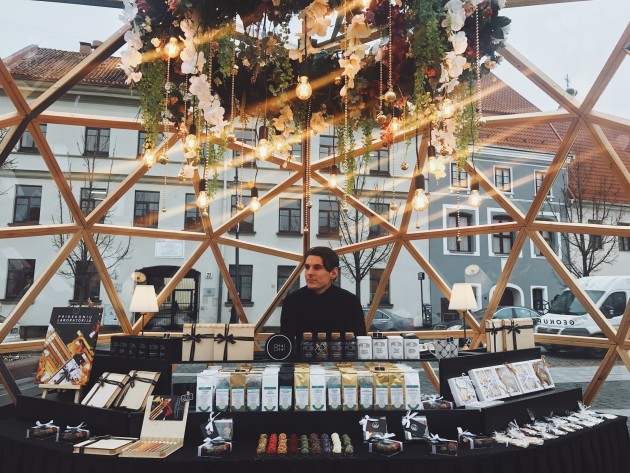 The Glass Angels Dome may astonish guests with the secrets of glass-within-glass. The unique glass artworks by professional artists will become meaningful decorations for your home and excellent Christmas gifts for your family and closest friends.
The Christmas Town at Town Hall Square invites visitors to discover a new space to enjoy the anticipation of Christmas, an inspiring festive mood, Christmas aromas, tastes and gifts, looking forward to receiving guests through 7 January.
Opening hours of the Christmas Town at Town Hall Square:
4 December 2017 – 7 January 2018
Mon 12:00 p.m. – 8:00 p.m.
Tue–Thu 11:00 a.m. – 8:00 p.m.
Fri–Sat 11:00 a.m. – 9:00 p.m.
Sun 11:00 a.m. – 8:00 p.m.
24 December 11:00 a.m. – 4:00 p.m.
25 December 12:00 p.m. – 9:00 p.m.
26 December 12:00 p.m. – 9:00 p.m.
31 December 12:00 p.m. – 12:00 a.m.