An increase in prices of solid fuels, fruit, coffee and tea, tobacco products, restaurant services, sewerage collection services and rentals for housing had the largest impact on annual inflation. Meanwhile, consumer prices were pushed down the most by lower prices of fuels (-5.3%), heating (-10.1%), gas (-11.9%), and electricity (-5.4%), resulted by declining global oil prices, the modernization of the heating sector and lower gas prices by Gazprom.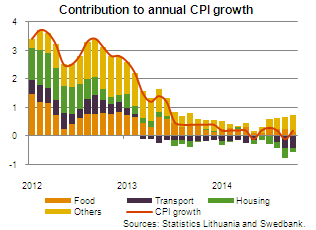 Declining prices of energy products have been recently having a large negative effect on consumer price inflation in Lithuania. They have pushed down the headline inflation to the lowest level since 2010. Meanwhile, the core inflation, which excludes the prices energy products, has been above the headline inflation and has even picked up a bit since July.
In general, in October the prices of goods in Lithuania declined by 0.5%, while the prices of services increased by 2%, in annual terms. Since the middle of this year rising prices of services, largely caused by the rounding up of prices before the euro adoption, have been the main source of inflation. Meanwhile, the prices of goods have been declining for the last three months.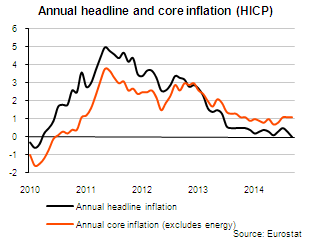 Outlook: Inflation will remain low this and next year
Due to declining global prices of oil and some other commodities, lower prices of natural gas for Lithuanian consumers, cheaper food products, resulted by the global downward trends in food prices and the food product embargo imposed by Russia, as well as a lack of other drivers of inflation, the average consumer price growth will remain low this year – around 0.2%.
Next year the euro introduction will create some additional inflation in accommodation, catering, and leisure services and the weakening of the euro will push up the prices of imported goods, thus we expect the consumer price growth to accelerate to 1.5%. In 2016 growing labour costs and more expensive food products will push inflation to 2%.