Nao was a guest speaker at the EBN's seminar on "The Future of Life", delivering a talk about the opportunities and challenges that automation may bring into our economy and concluding his appearance with a cheeky dance number. Performers, watch out, your jobs may also be on the line.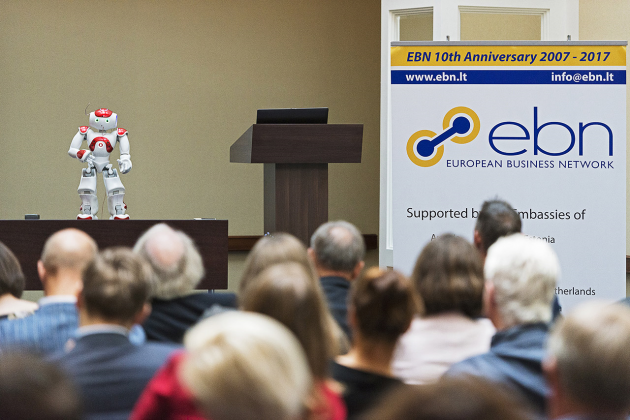 Technology was at the centre of discussions of the future at the event celebrating the ten-year anniversary of the European Business Network, an initiative launched in 2007 by Vilnius-based ambassadors and entrepreneurs aimed at bringing together business communities of Lithuania and other European countries.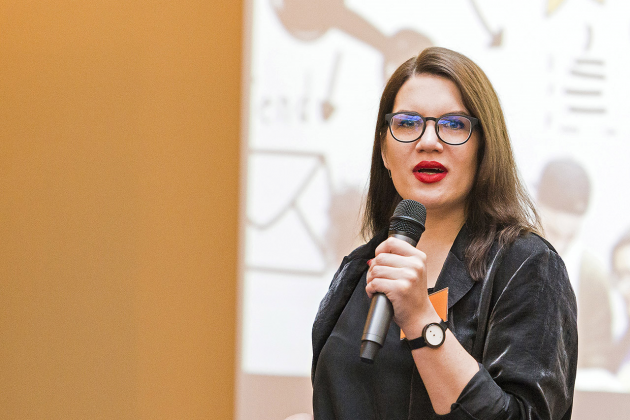 Irish Ambassador David Noonan was the host for this jubilee event. LRT's Science journalist, Goda Raibytė then introduced the speakers and emphasized the importance of science in our daily life. Ms Raibytė introduced the first speaker, Professor Juozas Vaitkus, of the Faculty of Physics at Vilnius University.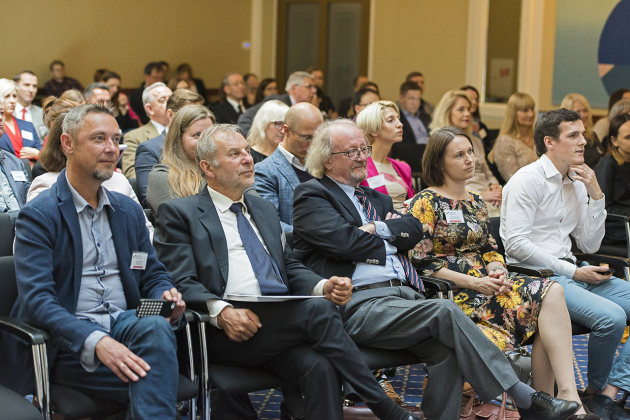 Professor Juozas Vaitkus delivered a talk on how scientists' quest for pure knowledge always opens up new opportunities for technological application. A partner of the famous European Organization for Nuclear Research (CERN), Professor Vaitkus gave a number of examples how enquiry into the fundamental make-up of the universe gave, as its by-products, applicable technology, including positron-emission tomography, used in medical diagnostics, the world wide web and wi-fi.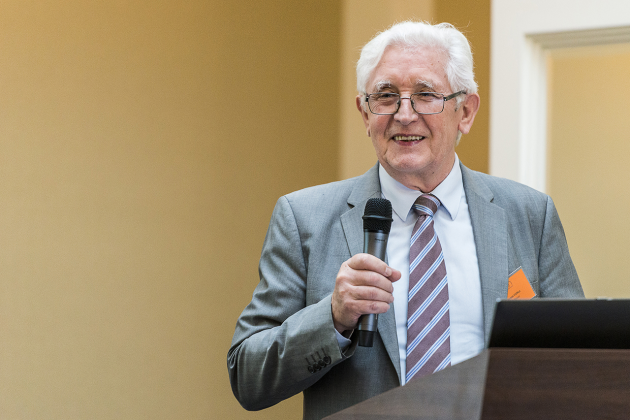 Marin Heideman, owner of the Dutch webhosting company DigiState, believes the future of cities has to be smart. Smart parking will have drivers alerted on their phones about the nearest vacant parking spot; smart traffic lights will analyse fluctuations in traffic and adjust their operations accordingly; municipal services will process information in real time about where their resources are needed.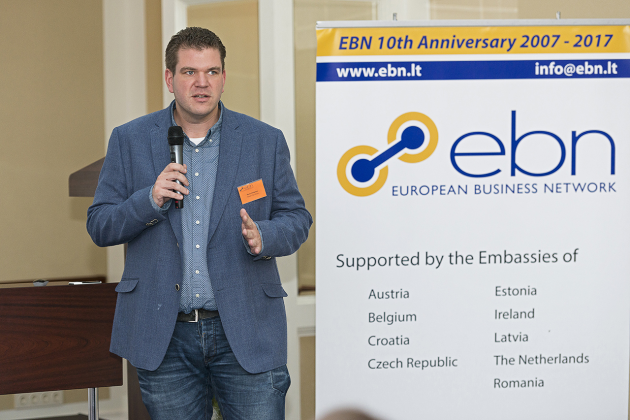 Mr. Heideman, based in Nieuwegein, the Netherlands is working on a project in nearby Rotterdam. Rotterdam is one of the smartest cities in Europe and Mr. Heideman assures that Vilnius can reap great benefits from being in the forefront of the 'get smart' movement, including investment, opportunities for green projects and tourism.
Biotechnology is another promising field, according to Professor Gintaras Valinčius, director of Vilnius University's Life Sciences Centre. Biotech represents a rapidly growing market, estimated to reach USD 775 billion by 2024, and has great potential to help "heal, feed and fuel" the human race.
However, advances in science can summon negative reactions from the society, according to Professor Valinčius, as exemplified by the continuing anti-vaccination movement which does not relent despite demonstrable evidence of life-saving benefits of vaccines.
The reactions become even more heated when it comes to research into the human genome. These negative perceptions pose some serious challenges that can restrict further scientific research and application.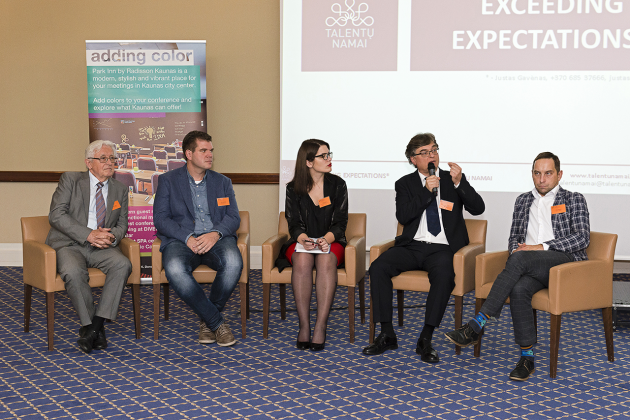 "The distance between what science does and the ability of the general public to understand it increases tremendously," says Professor Valinčius. In order to meet the challenges posed by poor scientific literacy, controversy-prone media and culture wars, natural scientists must cooperate with colleagues from humanities and social science departments and use "the science of science communication" to make sure the public understand their discoveries.
Don't ignore the new trends and always consider whether they will pass or stick. That is a piece of advice from Justas Gavėnas, management consultant and managing partner at Talentų Namai, to businesses eager not to be left behind the times. He has also listed a number of trends of the future that are already with us. We are already living in the age of impatience, according to Mr. Gavėnas, expecting our on-line shopping deliveries even before we click the 'buy' button. With an ever-growing share of our personal and economic activities moving to the internet, we can also bid farewell to any hope of anonymity, as our every click and scroll gets recorded and stored by big data companies. At the same time, with so much of what we do not being bound by constraints of place and time, "mindfulness" – being present here and now – becomes another buzzword of the day and a big megatrend of the future.