Panka is an average midfield player. At 185 cm tall and weighing 75 kg, he is an important player for his Israeli club and the Lithuanian team. He was born in Alytus in 1984. and the age of 16, in 2000 he got his professional contract at Dainava Alytus, but he didn't play there much. In two seasons, Panka played only 24 matches without scoring.
His next point was FC Vilnius where he played from 2002 until 2006. In FC Vilnius, Panka had his best years in Lithuanian football when he scored 23 goals in 99 games. In an exclusive interview to "The Lithuania Tribune" and "DELFI", Panka said that after four seasons in Vilnius he wanted to "develop his career" and after half a season in Vetra Vilnius, he signed onto the Polish club Widzew Lodz and stayed there for four and half seasons where he scored 12 goals in 116 matches.
The next stop for the Lithuanian football player was another Polish club, KS Ruch Chorzow. There, Panka played only half season and in 19 matches scored two goals. In 2013 he signed a contract with the Israeli club Hapoel Ironi Kyriat Shmona. So far, he has played 30 matches and scored seven goals. This season, Panka scored one goal and passed one assist. At the end of the season his contract is going to expire.
Between 2003-2006, Panka played for the youth Lithuanian national team. In 10 matches he scored two goals. Since 2008, the Lithuanian midfielder played 32 matches for the national team, but he didn't score.
In an exclusive Interview, Mindaugas Panka spoke with Aleksejus Podpruginas about his career and future.
In the last match Panka lost a ball which lead to a third goal against his team and to 3-0 to Maccabi Petah Tikva. "It was totally my mistake" explains Panka "I am taking the full responsibility for the third goal. It was a very bad game for our team".
Mindaugas, you played in your career in four different leagues. What is your opinion about the Israeli league?
The Israeli league is a strong league. I played six years in a Polish league and I think that the level in Poland more or less is the same, but here, in Israel, football is more technical, more like the Spanish and Italian style. In Poland and Lithuania we are playing a different style, more like that in Russia and Scandinavia. It is more powerful here, you need to move and run more.
If you were to compare the Israeli league to the Lithuanian one, which is better?
The league here in Israel is much stronger than in Lithuania. In Lithuania today there is one good team and it is Žalgiris Vilnius. In my opinion, if Žalgiris would play here in the Israeli league they will be good enough to be ranked at about fifth place. Maybe Atlanta or Trakai they are also good and maybe will be able to play in the Israeli league, but the all other teams are much weaker.
What can the Israeli league learn from the Lithuanian one?
In Lithuania there are a lot of players who like to work. We in Lithuania are not afraid to work a lot and hard. But in Israel, there are more talented and technical players.
How do you feel about your current position in Kyriat Shmona?
In the last two matches I played in the opening eleven. After my injury in the match for the national team, I lost the place in the first eleven. After I recovered I didn't play as well as my coach wanted and I lost the place again, but I became better and better and came back to the first eleven. I hope to continue to play well and that the coach, Barak Bahar, will trust me. Everybody in the team wants to have the chance to play, and if you don't want to be replaced, you need to work hard and as I said, to play well.
What will be your plans for the ext season? Will you stay in Kiryat Shmona or you will search for another team here in Israel or maybe in Lithuania?
All the possibilities are open. I have a contract with my team to the end of this season. Then I will talk with Kiryat Shmona because I like this team and would like to stay. It is a top team, with a lot of ambition and a team which fights for titles and I like it. Of course, if I will get good offers from another team I would like to check those as well.
Despite the loss, your team is now in front of the league. Do you feel some pressure in the locker room? Do you speak about the championship already?
Of course, when you are ranked first, you want to continue this. You are working hard to stay there. It is a target of our team to be in a good position at the end of the season. Of course, we will fight for this against other good clubs in the league such as Maccabi Tel Aviv, Hapoel Beer Sheva, Maccabi Haifa and others. It is not easy to be first, but we will work hard and will continue to do this. I believe that we can take the championship. Our team is strong enough.
Let's talk about Lithuanian football. Why isn't the Lithuanian national team one of the best in Europe like in Basketball? Why don't we have someone like Arvydas Sabonis in football?
Sabonis is a legend. Of course it will be great to have a good and strong team, I can't figure out why we are always in the middle, we are taking fourth, fifth positions and we are missing the qualifications. But I hope that we will be better.
Can it be the financial problem? That the government doesn't support football like it supports basketball?
I am a football player. Don't know how much the government gives to the LFF. I am not a politician and not a worker of the football federation. I am a football player and concentrating on the present national team in the best way that I can.
Would you like to come back and play in the Lithuanian league?
Of course. I plan to live in Lithuania and why not. It is better to play in an Israeli league or in any other stronger league than the Lithuanian one because I am an ambitious person but why not. Maybe the last season I could play for Alytus where I started my career. It is very sentimental to come back to the team where I started my career.
Your best years were in FC Vilnius where you scored 23 goals in 99 matches. Why did you decide then to leave the club if you played so well there?
I think that almost every Lithuanian football player wants to go to a better league. When you are improving you are searching for a better league to continue there and to grow up as a football player. If you are an ambitious player you should to do it, you should leave Lithuania for a better league especially if he has an offer from a better league.
Lithuania started its way to the Euro 2016 in a very good and impressive way with a few good results. What happened in the last two matches?
We lost against Switzerland, which is a top world team and it is very difficult to play against them and to get points. We tried and lost. But against Slovenia it was a game which we should take the points. Because if you are fighting for a second or third place, you need to beat the teams like Slovenia. Of course, we must forget it and to work and prepare for other matches where we have chances to get some important points. We will play home against Switzerland and England and Slovenia and Estonia away and we can take points in those matches and if we want to qualify we have to take the points. Now it is the first three teams will qualify and we have a chance to do it. Anyway, we still have chances to qualify.
You believe that you can take points even from England?
Of course! Why not? If you play home and you want to qualify to the Euro, you cannot give up on points in home games. You have to take the points at home games. Against England we are not playing five games, we have only 90 minutes and I am sure that we can take points from this game.
What it is doing for you to play under the Lithuanian flag?
It is a great feeling to play for the national Lithuanian team. It was my dream to play for Lithuania and I am happy that I can do it. It is very nice to play together with other players from Lithuania, to win together at the home stadium.
In your opinion, where will be the Lithuanian football in ten years from now?
It is very difficult to predict. I am not an oracle, but I hope that the Lithuanian football will grow up and will become stronger.
How is it to play far away from the home? What do you miss most?
The most difficult times were Christmas and New Years. Here in Israel, they do not celebrate those holidays and you miss friends and family. Of course, I am here with my fiance and it is a little bit better.but as a football player you must understand that if football gives you something then you have to give it back.
You are living in Israel for a year and a half, how are your Hebrew language skills?
After half a minute of laughing Panka finally described it in one word: catastrophic.
We are speaking in the locker room mostly in English. The guys in the club are very intelligent people so the all discussions and the instructions are in English.
If you were not a football player what would you do in your life?
It was my dream to be a football player, but at the same time I have a university degree so I have a plan B. Of course, I understand that a football player can't play forever. You are playing until 34-35 and then you have to do something else. I hope that my education will help me. But we will see what I will do after football.
You studied economics in Vilnius University; how did you manage to combine your studies and professional football?
It was very, very difficult. But I am very happy that I have finished it. It was difficult, but the field I studied is very interesting to me and even today I am reading books about the economy. And maybe after football, as I already said, this education will help me find a job in this sphere.
You are playing in the position of a midfielder. If you could choose, which position would you like to take?
In football the position depends mostly on your physical skills. Whoever is playing at the center has the right skills for that and the right view how to pass. If you are a midfielder you cannot play in the back or in the wings. I can't play in those positions. Of course, everybody wants to be a striker and no one wants to be a goalkeeper.
During the summer there was a war in Israel. What were your thoughts during the war? Did you feel safe?
Before I came to Israel I knew where I was going. Israel has some problems and some "hot spots" and I knew about the war, but I am not afraid because Israel is strong and I felt very safe here. My family understood that this is my career. Scarier to be in Lithuania in a dark place at night. The Lithuanian television is making it scary. They are showing only the scary pictures from the war and the people are thinking that it is very dangerous but I am feeling quite safe here. My family visited me twice and they saw that everything is good and safe.
What is your highlight in Israel?
It was when we won the state cup, it was fantastic. We won it in front of many people. It was the best moment for me.
And what is the greatest moment in your career?
Well, I want to think that the best moment will come in the future. I hope that the best moment will be when I will help team Lithuania to qualify for the Euro 2016. This is our target and I hope that we will do it.
Lithuania is a basketball state. Why you choose to play football?
It was when I was a small boy. My father took me to a sports school and I think that he saw that I always played football and it was more my father's choice and not mine and I am happy with this decision.
Have you already thought about retirement?
I believe that I will play three or four years more, but it depends on my health and every football player understands that that this moment will come. But I have some plans after football and I think that I will do something that has connections to the economy.
How you are preparing for this day?
For sure it will be a very difficult moment, because when you are playing 15 years and every day doing it and you know what you are doing and you have to take care of your food and rest and you are playing a lot. When it goes, it will be a shock for me. But I hope that I will find my way after football.
Have you ever imagined this moment? How will it be?
It will be a very sentimental moment. It won't be easy but as I said every sportsman knows that this moment will come. We must prepare for this.
In your opinion, who is the best football player in the world?
I think that it will be Andrea Pirlo. I think that he is an amazing player with great skills. He plays almost in my position and he understands the match in a fantastic way.
Can you figure out why the Israeli league is still not at the same level as the Spanish or the English leagues?
I think that Israel is on the right path and making getting from year to year. It is not happening in one year. It is taking time. I wish that they will get better.
Which would be your Ideal league to play in?
I would like to play in the Bundesliga (German premier league). This league is the best in Europe today. Every team is strong tactically and physically, and their national team is the best in the world and my wish is to play there.
Is it harder to become to be a professional football player today?
The first thing: you have to like what you are doing and of course you have to have talent to do it. You have to have character and to work hard. Who wants it more and who works more getting results. And of course a little bit of luck will also be needed. From year to year football is becoming more professional and it is harder to be a professional because it is more competitive as well.
This season you scored one goal. How does it feel to score goal?
It is very nice feeling. But for me it is not the important thing, I think that the important thing is when you are finishing the game as a winner and that you were a part of it. Because if you are scoring one goal and you are loosing 4-1 it does not matter. Your goal is nothing in this case. You are a part of a team and you need to work as a team.
Beside football what are your favorite sports?
Basketball and tennis. I like to play tennis. In Lithuania basketball is a national sport and of course I like basketball as all Lithuanians.
So which is better? Žalgiris or Rytas?
None of them. I support any team when they are playing in Euroleague.
Tell to the readers something that no one knows about you.
I am not a very open person. Also, I am not one who has a lot of friends. Of course, I have friends, but my favorite things are different from other sportsmen. I like to read books and newspapers. I like history and different things than others.
Try to answer the next short questions in one or two words:
Lithuania: Proud
Football: National team
Israel: Kiryat Shmona
Jonas Valančiūnas or Arvydas Sabonis: Sabonis
Kiryat Shmona: Nice people
Love: My fiancée Agne
Retirement: Difficult
Euro 2016: We will be there
Your coach: Very good one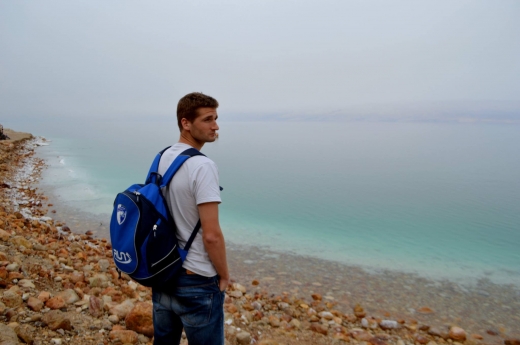 It seems that Mindaugas Panka is happy with his position in his Israeli club. At age 30 he is still hoping to play in a higher league and hoping to lead the Lithuanian team to the Euro 2016 in France. Based on his performance in Kyriat Shmona, he can do it.
Edited by Paul Moriarty