It has been said in various forms, that kindness ripples, is contagious, and simply lingers. The ongoing collaborative projects between Japanese and Lithuanian musicians, singers, and artists may just be a prime example of this type of ripple effect.
The Japanese diplomat who saved more than 6000 lives in Lithuania during the Second World War (WWII), or more accurately, his legacy, is still affecting the country with the aftereffects of his kind and selfless works.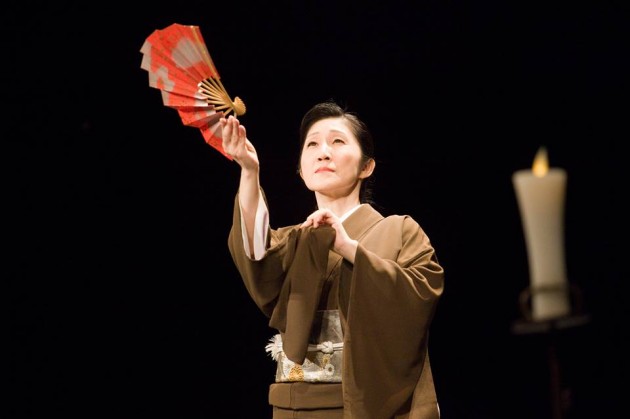 Friends of the Sugihara, a group formed to honor Mr. Sugihara's memory, began visiting Lithuanian back in 2001. It was from these initial visits that lasting friendships were cultivated, new organizations formed, and new collaborative projects created.
It was those initial visits that eventually created cultural bonsai exhibitions, full choral concerts, and this past fall, even a weeklong Sugihara festival.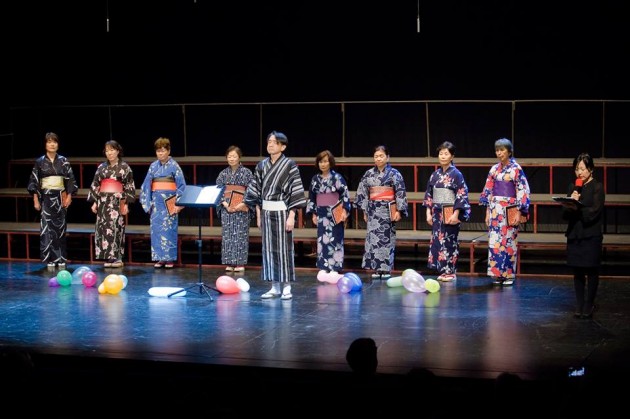 This past falls' choral concerts was in a category all of there own. On November 3-4, 2017 the Kaunas drama theatre, in conjunction with several Japanese choruses, musicians, and performers, collectively organized a Japanese- Lithuanian concert that benefitted RUGUTĖ – a non profit foundation that aids oncologically critically ill children, and victims of the Great Japanese tsunami.
The Kaunas modern theater group AURA, three Lithuanian choruses, Japanese JIUTA-MAI dancer Kirizaki Tsurujo, traditional flute SHAKUHACHI performer Irie Yosuke, Tokyo's CORO FANTASIA and "Iwaki Memorial Ladies Ensemble" from Iwaki city of Japan, which suffered from Great East Tsunami, performed a series of concerts that were almost ethereal in their beauty, sound, and collaborative precision.
The Japanese groups performed Lithuanian folk songs with emotion, clarity, and distinction. Their conductor was Mr. Hisayuki Sakamizu, artistic director and secretary of the Japanese-Lithuanian Friendship Association (JALFA). Mr. Sakamizu was endowed with the Order of the Star of Diplomacy of Lithuania on December 18th, 2017 at the Lithuanian embassy in Tokyo for his lifetime of selfless contributions.
He initially learned of JALFA through the Chiune Sugihara study group, the ripple effect of kindness-one good intentioned work leading to the next.
Mr. Sakamizu began his work with the organization after he retired from his professional life. Singing and conducting for choruses have had been his hobbies for many years. He now finally has more time to devote to his passions, actively working to bring Japanese and Lithuanian choruses closer together and forging long-term friendships and ties. After meeting and speaking with Lina Žukauskaitė, from the Lithuanian Embassy in Japan, he learned how he could a layer of good intention and social benefit from these collaborative concerts.
He learned from Lina of the plight of Lithuanian children with oncological diseases. He realized that this was an opportunity to help. For over ten years now they have been supporting the Rugutė Foundation. His group has already taken many Lithuanian choirs to Japan and have helped to send many Japanese choirs to Lithuania, each time collecting money for this noble cause.
The autumn concerts were not only culturally rich, dynamic, and unique; they were also socially conscious, with help from eight local schools, raising 5947 EUR, which was donated to the Rugute foundation, and victims of the Great Tsunami in Japan.
This spring there will be a new round of concerts in Kaunas, supported by JALFA- Japanese Lithuanian Friendship Organization. The attendee will have a new opportunity to listen to a delicate beauty, musical compilation of Japanese and Lithuanian performers.
The event is planned for May 27th, and will be part of the Lithuanian restored statehood 100th year celebrations. The combined choruses will be performing Beethoven's IX Symphony at the Kaunas Philharmonic, with Kaunas Symphonic Orchestra. Joining them will be the Gifu-Vienna mixed choir, 50-60 choruses, three soloists, as well as Mr. Sakamizu who be premiering as a tenor.
If you are planning a spring visit to Lithuania try not to miss this event. It promises to be a listening experience for the ears, eyes, and the spirit.
Please contact Asta Kavaliuskaite at kimono@kimono.lt or kimono.asta@delfi.lt
for more information or to help, financially, and/or with your time and energy.
Looking forward to another round of unique, well-rehearsed, culturally rich, moving performances.