Reis opp, Tiden er inne! (Norwegian: "Get up, the time is now!"). Lt. Silje Johansen Willassen would use this slogan to motivate her 15 soldiers from the mechanized infantry company before battle, which is deployed in Rukla. The officer that commands a 4 tank platoon "Leopard 2" says that along with other international NATO battalion soldiers she ready for everything.
Apart from the other soldiers from NATO International Battalion that are deployed in Lithuania, Norwegians stand out in traditions, respect for history or even mythology. Their tank, called Ragnarok, who in Norse mythology means the battle marking the end of the world, S. Johansen Willassen even compared it to the horses used by riders in ancient times.
"This is my war horse, it will take me where I need to be" said the Lt. – the first woman, who was entrusted to lead the tank crew in the Telemark battalion and 8 months ago – a tank platoon too, which consists of four powerful Leopard 2NO.
Fierce descendants of Vikings
The Telemark Battalion, which is a part of Norway's Rapid Response Force, became famous for fierce reputation. Norwegians – the direct descendants of the Vikings are famous for their fiery speeches and fierceness in battle. It's no surprise that the emblem chosen of the battalion is a Viking ship rushing ahead.
Also, Norwegian troops from the Telemark Battalion that participated in battles in Afghanistan earned the respect of allies and fear from enemies. In 2010 a video has spread online, which was recorded then the 4th company commander Rune Wenneberg aided the reputation. Before the battle with the Taliban he told a passionate speech.
"You're the hunters, predators. The Taliban is the prey. To Valhalla!" shouted the Major and responding to Valhalla – a mythical place of Viking god Odin, whre soldiers go after the glorious death, Norwegian soldiers thunderously shouted "Til Valhall " several times.
"Heve you ever been to the game of a small football league? Coaches motivate their teams' with weird words trying to inspire players. It's important, like the connection between soldiers because soldiers sometimes face difficulties. And it is their relationship – the connection of brothers and sisters can unite us, inspire us" said Lt. S. Johansen Willasen.
Would fight together with Lithuanians
Last weekend about 200 soldiers from the Norwegian Telemark battalion that came to Lithuania didn't waste time. Thoroughly checking the machinery that they brought to Rukla – 9 tanks "Leopard 2NO", CV90 infantry fighting vehicles, armoured personnel carriers M113 the Norwegians tried to prepare them as soon as possible as usual- after a few weeks their first exercise together with NATO allies will take place.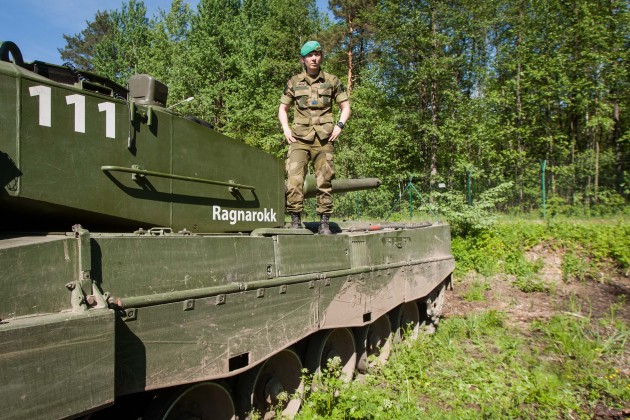 The multilateral NATO battalion, which is led by Germany, the integrated Norwegian military company, according to one officer, from the first day of deployment they are trying to prepare so that in case of necessity it could carry out its assigned tasks. Formally the task for the Norwegian Company and the NATO battalion, which is integrated into the Lithuanian Army Brigade "Iron Wolf", is deterrence.
During the NATO summit last year in Warsaw a decisions was made to deploy multilateral battalions to the Baltic countries and Poland, which so far is being implemented smoothly. Currently there are over a thousand troops from Germany, the Netherlands, Belgium and Luxembourg deployed in Lithuania.
However, deterrence is not the only task for the NATO battalion in Lithuania. The soldiers, who come here, not only demonstrate their military equipment but are getting ready for Lithuanian defence – if it would be necessary. Even knowing that the quantitative advantage of a potential enemy is massive, NATO Battalion assesses their mission optimistically.
"If there was an order to fight, the chain of command is simple: the decision by the NATO military command, which includes the Lithuanian army. As soon as we arrived, we checked our equipment in order to be ready to do our job, whatever it may be.
I have everything I need – I run a powerful Company, our soldiers are experienced, they've participated in combat missions in Afghanistan. Of course, now the possibility of potential enemies is a bit different but we're ready.
I can't tell you how long we could hold back alone, without reinforcements – this isn't public information but my company is capable of and our contribution is important – we can't save the world by ourselves but we would put up a good fight" smiled Norwegian company commander deployed to Lithuania Captain Brage Reinaas.
Old but reliable tanks
In 2001 from the Netherlands, Norway bought more than fifty tanks "Leopard 2A4" and is using them for the first time outside their own country. These aren't new tanks – made in 1979 they are still used in several countries around the world.
For example, neighbouring Poland has about 250 of these tanks. In response to threats the Poles, Norwegians and other countries have already began modernizing "Leopard 2", these modern combat horses meet modern requirements – tanks will be secured by newly installed fire control, aiming, and communication systems.
For example, German soldiers in Lithuania brought their newer, modified "Leopard 2A6" tanks, known as one of the best in the world. However, S. Johansen Willassen isn't worried that she is leading tanks of an older model.
"Yes, they are old, we all know it. But what matters is not only the tank but also the people and knowledge. How and in what mission we'll use them – we are learning"- said the Lt. One of her tanks with a set of 42 different types of ammunition weighs over 55 tons and can reach 71 km/h.
Rushing forward the tank can shoot from a 120 mm cannon and destroy targets 5 km away, while the targets are usually destroyed a kilometres away or less. Tank ammunition can punch through armour of up to 10 cm, so no tank in the world could withstand a direct hit from a "Leopard 2".
When Russia created and presented a new "Armata" system tank T-14, which isn't widely used yet, company Krauss-Maffei Wegmann that makes "Leopard" tanks already had a response – "Leopard 2A7", and during a last year at the exhibition "Eurosatory" introduced new 130 mm gun will be mounted on the new tank "Leopard 3".
One representative of the company "Rheinmetall" said that the new gun power is larger by 50 per cent. Pointing at the new 130 mm gun armour penetrating shell he compared it to latest 120 mm shell – smaller by a third.
The length of the most modern penetrating shell DM63 is less than a meter, and the new 130 mm shell is equivalent to about the height of a 9 year old boy's and weighs about 30 kilograms. The same 130 mm cannon weight about 3 tons. So if the cannon of a modern tank punches through about 800 mm of steel, the new will be able to break through 1200 mm, the thickest place of a Russian steel tank.
"In any case, the tank never acts alone – we work together with the CV90 infantry fighting vehicles and together with other NATO allies' machines" said S. Johansen Willassen.
Norwegians don't exaggerate the gender
In 2004, the woman who started serving in the Norwegian army three years later mastered the CV90 armour cannon but later changed to the tank "Leopard 2". Having decided to pursue a career in the army S. Johansen Willassen entered the military academy, where she met the soldiers from her future squad.
"They accepted me normally. It was fun. At first they saw how I failed. I was new. But that's why training is necessary, you learn new skills, improve them.
I still want to be a better squad commander. This is a big responsibility – you have to be strict and indulgent, and empathetic, have to rely on others, give them tasks, plan them yourself" said Lt. from the Telemark Battalion.
The troops from this battalion in 2015 Norway sent to Iraq to train Kurdish fighters, who are the most effective military force in the region that can fight with the terrorist organization Islamic State. The Norwegians quickly found a common language with the Kurds because there are a lot of women in the ranks of the Kurdish fighters. In the same year Norway called women to the conscription.
What is interesting is that in the same in 2015 conscription was renewed in Lithuania. However, Lithuania so far calls only men but experts increasingly talks about the worsening demographic situation and physical health of young people that will inevitably force to follow the Norwegian example and call women to the army in the future.
Norwegian have no doubt about women in the military, who accounts for more than 10 percent, – last year a separate women's Special Forces unit was set up. However, S. Johansen Willassen said that gender in Norwegian army isn't exaggerated. For example, Americans are very surprised that the Norwegian soldiers are living in the same premises in barracks without distinguishing gender.
"There's nothing special. It works great in Norway. If I am a girl, it doesn't mean that I am a worse soldier because you have to look not at gender but the qualities and skills. We have almost the same requirements; we all go to trainings with the same backpacks, weapons. Here, in Rukla, out of 16 of our platoon three are girls but we lived with everyone – the two rooms, eight soldiers in each" said S. Johansen Willassen.
Showing the front of the tank, she emphasised that it is here the whole four-man tank crew lies down when they have to spend the night with "Leopard 2" in the training field.
"We get into sleeping bags and lie down. If it is very cold – and in Norway, believe me, it's very cold, we huddle together and sleep. There are no problems, all act professionally" said Lt., and emphasized that values ​​are very important in her unit: respect for each other, for allies and potential adversaries.
The people and not the numbers are important
Only on the second day after the coming to Lithuania, the officer was reluctant to talk about the sensitive topic – why she and other allied troops came here. It's no secret that NATO's decision to strengthen the security of the Baltic countries was in response to the aggressive actions of Russia. And Russia, who is strengthening its military power, training, provocating and intimidating neighbours, was named as the potential adversary, and NATO might have to confront its military power.
Russia, who gathered forces ten times bigger, than the NATO battalions near the Baltic countries, Russia is lately likes to scoff about the alleged aggressive actions of the Alliance. At the same time, NATO officials stressed that during the military exercises, such as "Zapad", especially Russia is training for a war with NATO.
The intelligence report of the Lithuanian State Security Department and Second Department in April warned about the readiness for a blitz conflict with Russia and the ability to mobilize the forces in 48 or even 24 hours. There are concerns that Russia, which used hybrid tactics and their conventional capabilities in Ukraine and Syria, might keep going and try out their strength in NATO.
What would happen if NATO battalion in Lithuania would be given the signal to get ready for battle? What would S. Johansen Willassen do if she received an order to stop the adversary, if she saw an armoured line of hostile forces in the distance – the whole battalion of tanks T-72 against her four "Leopard 2" and CV90 infantry fighting vehicles?
"You can't evaluate about the ending of the battle only looking at the numbers. You need to look at the people because war is firstly the people.
You're talking about the fear of seeing a larger adversary – we are taught to control these situations, we train in realistic conditions, when stress is caused, there's limited time and other resources. Let's not forget that we are an integral part of a larger unit, so actions would depend on the tasks given to the battalion. I must do what is smart – to cause as much damage to your opponent and avoid losses. That's what they teach us" said S. Johansen Willassen.
She admitted she had seen images from Syria, where several destroyed Turkish army tanks "Leopard 2A4" are shown, that are almost identical to those used by the unit of S. Johansen Willassen. And while the tank is probably the safest and best protected vehicle during a battle, they aren't invincible and can become a coffin.
"Soldiers always know that this ending is a possibility. On the other hand, tanks are very dangerous and we teach our soldiers to stay safe and to beat opponents" S. Johansen Willassen talked optimistically.