Please introduce yourself shortly.
I was born in India but I consider myself as a world citizen as I have lived in and traveled to various places around the world. I have taken in from different cultures and that has shaped up my personality. I have interests ranging from music, adventure sports, motorbikes to spending time in nature while reading about philosophy.
Tell us shortly what do you do in your life?
I am an entrepreneur who has various business interests in different countries like Singapore, UK and India. I have a family business of chemicals which are used in soaps, detergents and cosmetics. Our company has tie ups with some multinationals like DuPont and Clariant for their products to be supplied to specific key clients. Apart from handling the family business, I am focusing now on investing in promising startups and looking for some potential opportunities. I am also planning to start up in fashion accessories and create a brand.
How've you decided to come to Lithuania?
As I am looking to create a brand, and do investments in promising countries with opportunities, Lithuania seems like a good place to start. I came here last year as a tourist and was impressed. I believe that the country is in its sunrise phase and it is the right time to be investing here.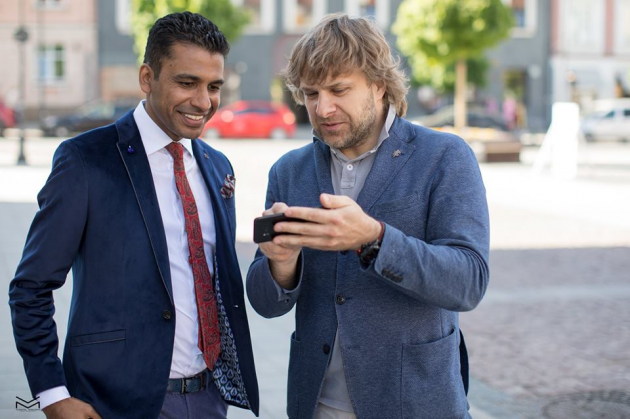 What were your first impressions about Lithuania?
I was genuinely impressed with the country. It has everything like any developed country and yet the prices are reasonable. I feel that there is a special charm about this county which is a very rare thing. Also, Lithuanian language is very interesting for me as it has ties to ancient Indian language Sanskrit and every time I come here, I try to learn new sentences. Hopefully, in some time I will be able to order food in a restaurant in the local language.
What do you think about Vilnius?
I believe that Vilnius is a very special city and I say this about very few cities around the world. It is a beautiful city with great infrastructure and everything is so easy. For example, you get to city centre from airport in 15 mins which is a luxury for a capital city. And you have great restaurants and bars and a buzzing nightlife to add to the glamour.
You've been few times already in Lithuania, what can you say about local people you met?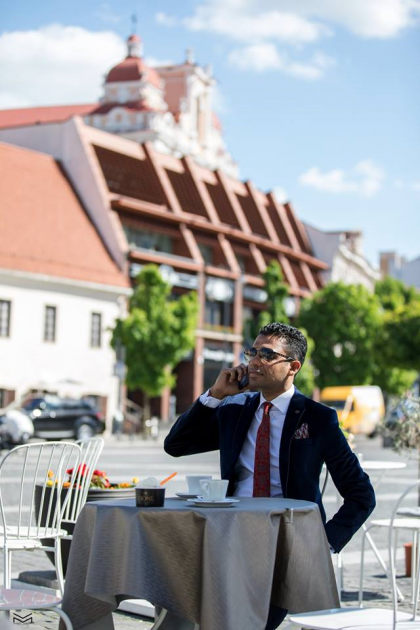 I think the people are extremely important to my impressions and experiences about any country and I have to say that I really like the people here.
Lithuanians are very friendly, open minded and are genuinely interested in cultural exchanges. I have made some really good friends and connections in a short time. This is one major reason that I keep coming back and have decided to do investments as people are the most valuable resource in a country.
What are you interested in and what are your plans here, in Lithuania?
I am still exploring the country but fashion is one industry which interests me a lot. I have already in mind about getting into leather and other fashion accessories as I think Lithuanian people appreciate good style and have a sense of fashion. The other upcoming industry is the tech startups for which I am exploring the market. Having said that, I am open to new and promising ideas and do not want to limit myself to any particular area or industry.
You've been studying in Edinburgh, which experience is the most important to you?
Living and studying in Edinburgh was an experience in itself as it is also a special place like Vilnius. It changed my life completely as not only it is a world renowned university academically, but also offers so many alternative experiences. I got to interact and learn from people for more than 25 countries as my fellow classmates and now I have these connections for lifetime. I am still engaged with the university in various ways and recently sponsored a scholarship in the business school where I studied as a tribute to my father and I also believe in giving back.
http://www.ed.ac.uk/student-funding/postgraduate/international/humanities/business/shailendra-kasera
You travel a lot and attend many events. Which trip or event was the most remarkable and why?
Yes, traveling is my passion and part of my work too and I have had the privilege to visit over 40 countries now. But I will list one trip and one event as most remarkable experience so far. I hitchhiked from UK to mainland Europe to support a charity that raised funds for kids in Africa. I slept under the stars and it was an amazing experience and I also got to see some incredible acts of kindness by strangers who drove hundreds of kilometers just to help me out. The most notable event I attended was a private party in honor of Duke and Duchess of Cambridge where I got the opportunity to meet and have an interesting conversation with Princess Katherine Middleton about her life in Scottish university. It was so easy to talk with the princess and I learnt that it is so important to be humble when you are in high places as power brings responsibility.
What are our near future plans? When are you planning to visit our Vilnius again?
I want to be involved with Lithuania in a long term way and am exploring various avenues for that. I also wish to be more involved in social causes in the near future and am working closely with some people for achieving certain goals.
I will be coming back to Vilnius again in July and perhaps once every month when the projects start rolling.
Any other extra information you would like to add yourself also can be very useful.
Rather than saying more about myself, I would take this opportunity to thank Lithuanian people for embracing me and look forward to a lasting association with this wonderful country.