The Utena born star collected an overwhelming result of 38.8% after public voting came to a close earlier this week.
The 22-year-old center also finished runner up in last year's award, one which has been in alliance with Lithuania's online news portal DELFI since 2008.
Lithuania's captain Mantas Kalnietis finished runner up with 14% of the national vote; a remarkable effort considering the PBC Lokomotiv-Kuban star was absent from the FIBA World Cup due to broken collar bone.
Donatas Motiejūnas, Renaldas Seibutis and Mindaugas Kuzminskas rounded off the top five after an impressive year with the national team while Šarūnas Jasikevičius placed 7th.
The 38-year-old LKL playing assistant coach was the highest ranked player outside of the current International team; receiving 3.7% of the vote from his devoted Žalgiris Kaunas fans.
Top 20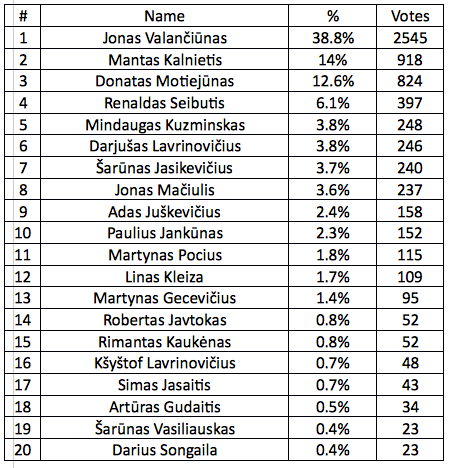 Winner list since 2008

Gintarė Petronytė, inaugural recipient of the national women's title, clinched her second award by a narrow percentage over rising star Santa Okockytė.
The 25-year-old star born in Panevėžys, averaged 14.8 points for Lithuania across the national team's successful 2015 EuroBasket qualifying round.
Petronytė has played domestically in Greece, Poland and is partaking in her second stint in Turkey where she is based with Hatay Büyükşehir Belediyespor.
Surprisingly, Okockytė only missed out on the title by 3 votes after exclusively revealing that she had experienced a year divided by two halves.
"Initially, my year was nothing spectacular as I was based in Spain yet unable to gain the court time I had desired," said Okockytė.
"Thankfully, I was able to represent Hoptrans-Sirenos which boosted my team credibility in an environment where I was able to average 14.7 points per game."
Like so many rising stars before her, the 22-year-old also impressed in Lithuania's national team; averaging 8.7 points across a handful of dominant victories.
"As the main point guard for the national team it was satisfying not only to average 8.7 points but to also secure Lithuania a spot in next year's EuroBasket tournament."
Previous winners of the title Rima Valentienė, Lina Pikčiūtė and Sandra Linkevičienė all finished in the top ten ranked 7th, 9th & 10th respectively.
Top 20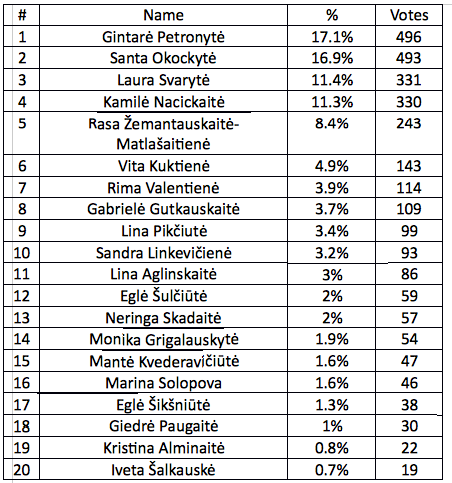 Winners list since 2009