The festive event program began with the fashion show of the traditional Indian wedding dresses that have been presented by "Silver Tulip" – fashion brand established by mother and daughter in New Delhi, in 1986. Collection amazed with its colorful, delicately hand-embroidered fabrics, refined traditional Indian jewelry that complemented the outfits and sounds of India surrounding the show.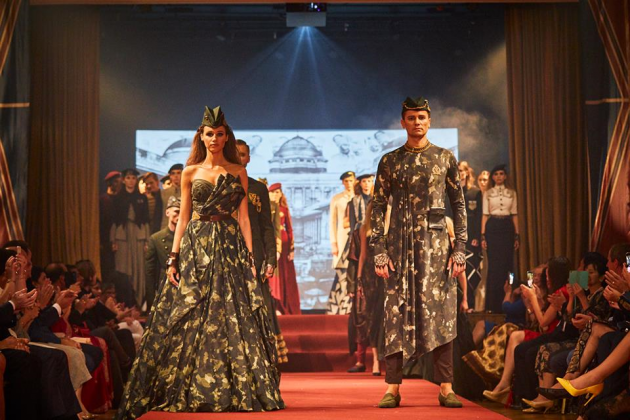 The highlight of the evening was the internationally acclaimed Indian high fashion designer duo "Shantanu & Nikhil" who presented their collection called "The Regiment". "Shantanu & Nikhil" fashion show grabbed everyone's attention from the very second it started – fluttering flags, the inspiring words of Indian Independence Hero Mahatma Gandhi in the musical background and the impeccable silhouettes of militaristic pieces that draw inspiration from the Indian armed forces decorated with sophisticated, androgynous brooches and medallions. The collection was presented by the well-known fashion and entertainment figures in Lithuania – Asta Valentaitė, Karolina Toleikytė, Deimantė Kazėnaitė, Gabrielius Vagelis, Nerijus Juška.
For an event finale, impressive ice show by artist Mindaugas Tendziagolskis was performed on the stage revealing a spectacular ice sculpture with a special inscription for the celebration of the 70th Anniversary of India's Independence.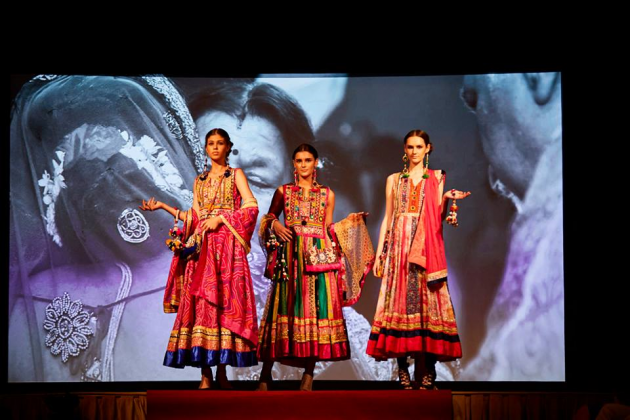 Evening guests unanimously agreed that festive event commemorating the 70th Anniversary of India's Independence was a considerable step towards strengthening international relations.
"Prevailing uplifting atmosphere of this festive event perfectly represented such a special date as the 70th Anniversary of India's Independence." said Mrs. Khatuna Salukvadze, Ambassador of Georgia in Lithuania."I was a pleasure to take part in the event that demonstrated superb organization, gathered an honorable audience and stunned with the diverse cultural program. My biggest compliments for the Indian designers who presented wonderful collections tonight."
"This evening was definitely very special. We felt the festive spirit among the audience including the representatives of different sectors and countries as we all gathered here to celebrate these two important Anniversaries. I think such events undoubtedly strengthen the international community. We were fascinated by a rich, Indian-based program presented during the evening – from the colorful, highest class fashion shows presented by the designers from India to the traditional Indian food served during the event." said Andy Pearce, Charge D'Affaires for the British Embassy in Vilnius.
"Such a solemn reception for celebrating 70th Anniversary of India's Independence was held in Lithuania for the first time. We hope that it marked a beginning of even more beautiful, joint celebrations to happen in the future. I am highly satisfied with the event and the presented program that showcased the history and traditions of old India and led us towards new, modern India, where innovation and manufacturing of highest quality products is prevailing and that was represented perfectly by designers "Shantanu & Nikhil" who have their unique style and boast the highest craftsmanship in their work." said event initiator Utsava Kasera.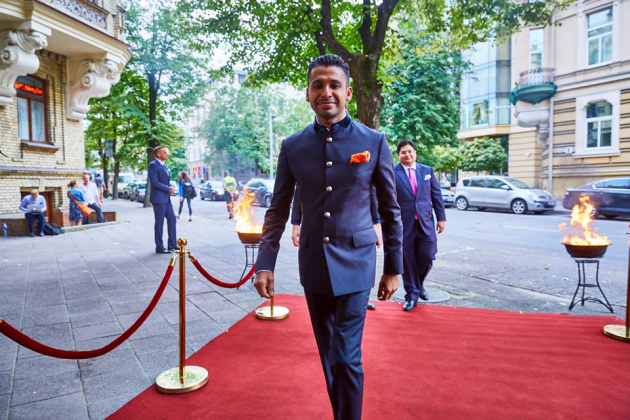 "The event was really fascinating. Both collections that were presented made a great impression, and the unexpected, impressive ice show was a great accent for an event finale. Congratulations on both dates – 70th Anniversary of India's Independence and 25th Anniversary of Indo-Lithuanian relations. I really hope that in the future not only business relations, tourism will intensify between our countries, but also the cooperation in educational fields and we will attain larger numbers of students coming from India to Lithuania." said Parliamentarian of the Republic of Lithuania Algirdas Butkevičius.
"I am so honored to have taken part in the organization of such an exceptional event celebrating two significant Anniversaries that gathered honorable audience including Ministers, Diplomats, representatives of business and cultural sectors, and also managed to present globally recognized Indian high fashion designers to Lithuania. It was an unprecedented manifesto of international friendship and high fashion merged to create a celebration that presented Indian Tricolour Flag at its bestest" – said the executive producer of the event Alkas Paltarokas.